The unit below is the first off of a batch of 20 cabinets. These cabinets will be installed outside in harsh environments so have been constructed from 316 stainless steel.  We have designed the cabinet in such a way that the joins between each panel overlap to help stop the ingress of water.  After riveting the panels together, all joints are then TIG welded together to give maximum strength and rigidity.  After welding, waterproofing seals are added to the carcass, and the doors hung using 6mm thick stainless steel hinges.  To maintain the correct compression ratio on the seals, special compression locks are for this application.
RAS Bending station
Posted By: John Weller
On: October 10, 2016
---
I've uploaded a video on YouTube showing one of our two RAS bending stations forming a typical pallet rack shelf. Click the link detail to view it.
Plan chests – Come in all shapes and sizes
Posted By: John Weller
On: September 30, 2016
---
We produce museum quality plan chests in various standard sizes, drawer configuration and styles. Special & bespoke units can be manufactured to order. Bespoke storage solutions can be designed & manufactured to incorporate shelves, drawers, doors etc. to suit our customer's individual requirements.
All units come with a range of different options including, deep rear hood and front flaps fitted to the drawer, this prevents drawing curl, anti-tilt and locking. We also offer a 'drop-down' front option of drawer, the drawer front easily rotates to just below horizontal enabling the fragile contents to be placed into the drawer without any damage to the item.
All planchest are robustly manufactured and an extended guarantee can be offered.
Domed tops – welding and cleaning
Posted By: John Weller
On: September 9, 2016
---
Another top quality item being produced this week at CDS, these domed top are designed not only to sit on top of cupboards to give a nice aesthetically pleasing look but also to stop anything be placed on them.  The center section is sheared as a flat blank, only once it is TIG welded to the curved side panels does it take its shape.  As you can see the seam is completely welded and is then linished to give a smooth joint.
Screen mounts
Posted By: John Weller
On: August 26, 2016
---
275 screen mounts required by the middle of next week!!!! All the associated metal work has been punched and bent accordingly, the final stage before it goes off to be paint is the spot welding.  So that the operator can't spot weld the brackets on incorrectly, a simple jig is used, this not only ensures that the short brackets go along the sides but also positions them in the correct place.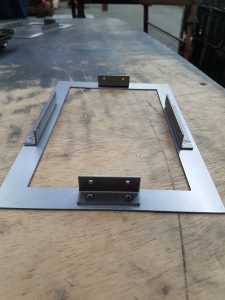 Punching, Bending and Spot welding
Posted By: John Weller
On: August 19, 2016
---
Another project based job being processed through the factory.  With the punching, bending and spot welding complete, all that's left to do is add some paint before they can be installed next week.
These cosmetic door panels were punched over night on our Vipros punching machine before being bent on the RAS bending cell.
To gain strength on the lock side, a reinforcement section is being spot welding onto the door panel.
Summer shutdown, retirement and a Birthday!!!
Posted By: John Weller
On: July 22, 2016
---
We shut today for our annual 2 week summer holiday, but before we go, Terry, who has been with us for the last 14 years is retiring today, so from all of us at CDS "Good luck Terry and enjoy your retirement".
Also, during the shutdown Andy Dawson will be turning 50 during the first week of August, so, Happy Birthday Andy have a great day.